Social Media & The Buyer's Journey: A Tactical Approach Toward Better Engagement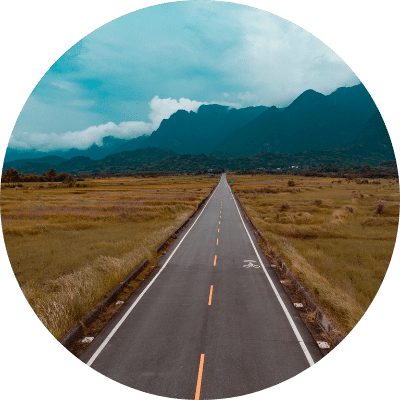 If you take away one key point from this article, it's this: social media is an extension of your overall communication strategy.
When used in parallel with digital advertising and email marketing, social media marketing acts as a buttress for demand generation and small business content creation efforts.
Before investing time into your small business marketing blog, create new videos for your YouTube channel, or build your social media presence, you need to consider your buyer's journey.
Remember that your marketing is only as strong as your own understanding of your ideal customer profile.
What is the buyer's journey?
As part of your research into understanding who you're targeting, consider the following:
How does someone in need of your product or service learn that they have a need?
At what age, career, industry or point in their life is someone most likely to become aware they have a need?
How does someone learn about your business if they search for information about the service or product you provide (right now)?
The buyer's journey is meant to serve as a framework to understand the above. Let's take a look at the buyer's journey during each stage and how social media marketing plays a role in moving some further down their own journey.
In this example, I borrow the first three journey stages from HubSpot's own buyer journey framework and add a fourth "referral" stage based on my own client work.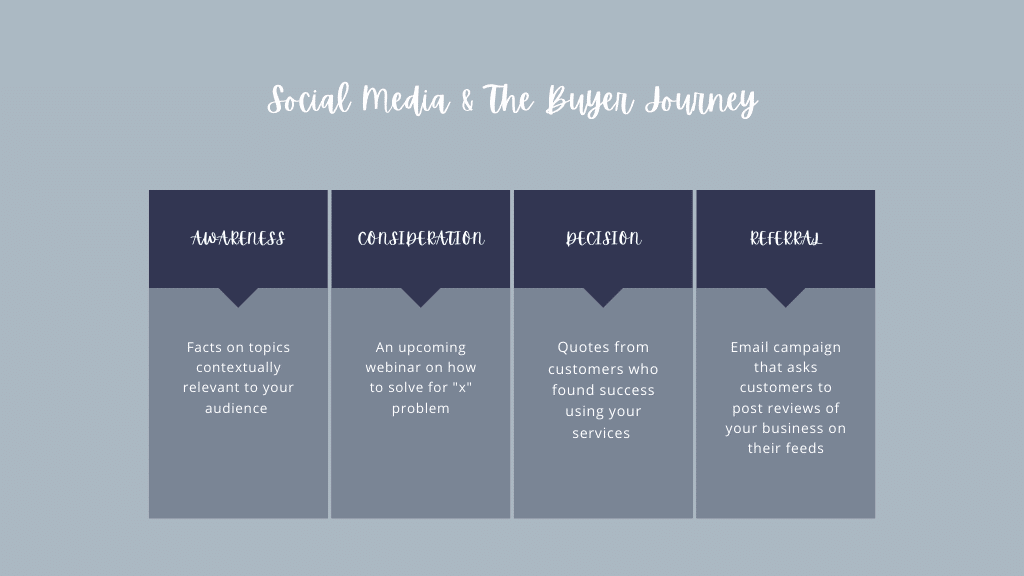 The Awareness Stage
Social media marketing plays a role during a person's stage in the buyer's journey. During the awareness stage, your social media outreach means consistent posting around industry insights, contextually relevant products and services, and group contributions that mention a particular topic of interest.
The takeaway here is that during the awareness stage, your social media marketing promotes the education or awareness of a problem or need for individuals on social media.
The Consideration Stage
The consideration stage equates to activities like circulating relevant content from a partner or your own business blog, as well as affiliate content to help push someone down the funnel or across the buyer's journey with conversion.
For example, someone in this stage may now be aware that they have a need and are actively seeking potential solutions. This is the time to promote an upcoming webinar on your social feeds that answers a common question or showcase your work in an informational.
The Decision Stage
Decision stage buyers are well aware of solutions in the market and spend their time are comparing competitor rates and product features. This is the final push to compete for new business.
Here your social media feeds showcase quotes from existing customers, offer promotional content or monetary incentives/discounts for new customers, or in some instances involve competitive takedowns.
During this stage you may also receive inquiries from people on your social media networks via direct messages or Chat bot messages. It's important to check these sources for inquiries as your responsiveness may be a deciding factor in a prospects decision to convert into a customer.
The Referral Stage
During the referral stage, your social media marketing efforts need to keep your customers happy to maintain low churn and transition customers into evangelists. Your social media involves customer support, troubleshooting, or the accompaniment of an email marketing campaign to recruit new business.
The Four-Step Social Media Framework for Success
Strategically, I recommend following a simple four-step process to grow your social media marketing into a support system for your marketing strategy in order to achieve critical goals.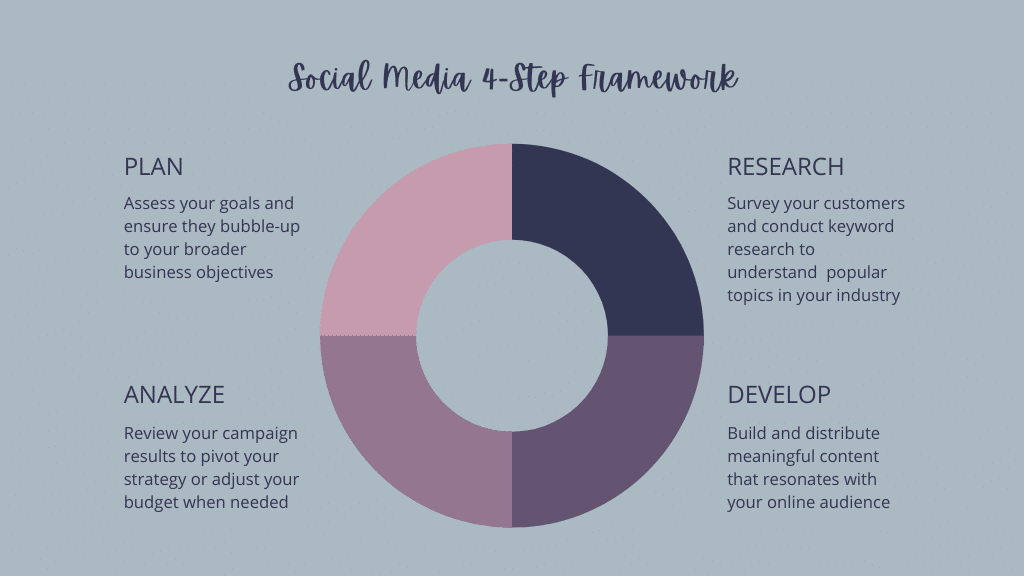 This framework is meant to guide you across what social media effort has been successful for your business, what has not been successful, and what your competitors are doing. Remember the purpose of your social media campaigns should be to complete goals under the scope of your business objectives. This means that your optimization efforts will be cyclical and ongoing. The last thing you want to do is consider these tasks one-time or ad hoc.
In turn, your outcomes from each stage of the social media framework will inform your social media strategy during each activity, allowing you to pivot where necessary. Quickness in failing early and pivoting based on those failings saves you money, time, and energy. Dedicate critical resources only to what has the highest likelihood of success.
Bring It All Back to Your Business Objectives
Your social media marketing activity is a function of your overall communication and marketing efforts, which means it should always bubble up to a business objective. Examples of objectives include driving new business, enabling profitability, or converting down-funnel pipeline into revenue.
Any effort carried out on your social media profiles should connect to a broader objective. Otherwise, consider minimizing or halting that effort as it will not cater to a critical push to move your business forward.
Benchmark Your Competitors on Social Media
Competitive research is a necessary evil, but thanks to social media analytics and listening tools, it's much easier to see what and how your competitors are managing their own content on their social media feeds.
Take a look at their followership, as well as the type of content they promote. Similarly, take note of the quality of their followers and if there are influencers likely to benefit your business via mentions, reposts, or guest blog opportunities. If your
Relevant industry hashtags, industry news, or events are worth promoting on your own feeds if they remain consistent across the board. Be wary to copy the tactics of your competitors in their entirety as not all brands follow social media best practices.
You can view your competitor's information listed above by searching for their social profiles, just as you would look up your own.
If you found this article helpful, consider reading How to Conduct Really Easy #Hashtag Research and How To Build & Review Twitter Ads: Small Business Edition.