How To Build & Review Twitter Ads: Small Business Edition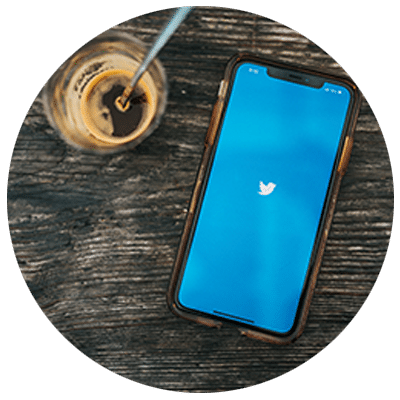 Social media is a medium with many versatile functions across the marketing funnel that can be tracked backward and forward to identify leads, opportunities, and customers. But advertising, from the beginning of its formation to its current programmatic state, will always be a combination of art and science.
Let's walk through the basics of Twitter Ads and how you can leverage the medium to grow your own business. Following this, I'll walk you through a case study of a brand awareness campaign pulled from my own campaign that ran in December for the Social Media Marketer Checklist.
Building Your Twitter Ad Campaign
Before we dive in, check out the Twitter Business page and video below for a walkthrough of the Twitter Ad Campaign Manager and campaign basics. Just be mindful that this video is from 2018, so some of the naming conventions may have changed since then.
Thankfully it's not just brand awareness or evergreen campaigns available in the tool. In face Twitter Ads allows for several different types of ad campaigns. Check out the slide show below for a list of all currently available Ad types, including notes around what to promote and how costs are charged.
Bubbling Up Your Goals to Your Business Objective
It could very well be that Twitter isn't the right medium for your business. That's OK. There are plenty of other social media platforms that might better adhere to your audience. As the small business owner, it's up to you to explore, survey and understand where your customer are.
Let's assume that Twitter is indeed where many of your customers and prospective customers seek information and publish content to like-minded groups. If this is the case, then you'll want to take the next step in ensuring your ad goals can be traced to your overall business objective.
For example, the case study I'll be walking through further in this article was built with the intention of generating better brand awareness broad scale. For tracking, I used a mixture of Hubspot, Google Analytics and Twitter's Ad campaign manager features.
Taking a step back, I asked the question, what is TheMarBlog's overall business objective?
To drive a reputable business around the offering of freelance marketing services for small businesses through a mix of social media, paid advertising, SEO, content services, and customer referrals.

TheMarBlog.com's Business Objective
The above embodies the primary objective for all the money you spend, the actions you take, and the time you allocate. If your campaign can't drive back to your overall business objective of accruing customers or making money, then you should reconsider the ad campaign's overall goal.
The next step is related to your marketing goals. All your marketing efforts should contribute to at least one of your primary marketing goals, which will help you understand how to track success. This in turn will help you track KPIs and inform the build.
In TheMarBlog's case, the following are my three primary marketing goals entering 2021:
1. Increase Online Visibility Through a Strong Channel Mix
2. Personalize Marketing Personas Across Industries through Research
3. Improve Reach Through Engaging Content & Partnerships

TheMarBlog.com's 2021 Marketing Goals
The Social Media Marketer's Checklist Ad campaign bubbled up to the first goal, adding visibility around my services and themarblog.com. My goal was to gain as many impressions on Twitter for the Social Media Checklist post as possible and as a secondary objective, gain followers.
Reviewing Your Results & Defining Success for Twitter Ads
Had I gone into my own campaign with the expectation of leaving with a signed client, I would have been disappointed.
For many small businesses, it's difficult to keep from falling into what I call the "ROI trap." This is the expectation that if every single marketing effort cannot be tied to the likelihood of an immediate positive return on spend, than it is not worth pursuing.
The challenge with social media, however, is that not every action can be tracked back. For example, consider the value of your conversations with customers on a social media chat feature, like Facebook direct messages. Let's say someone on your sales or accounts team answers a question or outreach on Facebook and the individual leaves feeling more assured in their knowledge of how to proceed with your product or service.
That experience could have resulted in a positive referral to a friend or colleague. But ultimately when that second person reaches out, this metric won't come through as a referral unless you have a tracked code for referrals to identify themselves. More often than not, this individual's first experience with your brand will be in the form of a new visitor or follower on social media. In this instance, it's harder to quantify the value attributed to that one conversation on Facebook.
For those softer interactions on social media that may result in longer-term brand affinity, how do you define success? I offer the following advice to small businesses when engaging in social media marketing.
Start Small
As the saying goes, don't place all your eggs into one basket. Start out by advertising evergreen content that might appeal to a broader audience on Twitter or promote your profile to a specific people with selected keywords to gain momentum in your following.
Throwing hundreds of dollars toward something you haven't tested or tried before is ill-advised. Similar to the old advice of diversifying your financial portfolio, diversify your ad spend.
Test. Test. Test.
Test the time of day, the content, the call to action, who you target. Everything. Every campaign you run can be run in parallel with another campaign designed to test a feature or element. Ultimately, you'll start to see some trends in what's engaging users on social media versus what's not.
Track Where You Can
If you're launching an app or looking for improved site traffic, you can establish destination goals in tools like Google Analytics to track visits to a certain page (like a 'Thank You' page or a landing page).
For the softer interactions like the Facebook example from earlier , you might have a promotion running where your chat reps notify customers of a new product or service isolated from your regular business. Identify the promotion period in your analytics tool and keep track of new site visitors and their referral sources to get a sense of whether people are coming through from Facebook as a touch point.
Wherever possible, you should include UTM parameters or other trackable link when you publish content on social media to be sure it populates in your analytics tool.
Case Study: The Social Media Marketer Checklist
Ok so let's walk through an example of a Twitter Ad campaign. Back in December 2020, I created one for the Social Media Marketer Checklist. This was a promoted tweet with the intention of building brand awareness for myself and themarblog.com.
Since my goal was to get this content in front of as many people as possible, good click-through rate wasn't a priority. This was the ad to familiarize myself with Twitter Ads and test out the appeal of the Social Media Marketer checklist.
Ad Campaign Setup & Build
Here's the original Twitter post I promoted. It generated a decent amount of organic engagement, but given my small following, if I wanted to get this in front of the right people, I'd need to advertise.
For small businesses out there, check out TheMarBlog's free Social Media Checklist as a quick how-to guide for kicking off your social strategy. https://t.co/UT3xWR4OaQ
#smallbusiness #smallbiz pic.twitter.com/a6iqlAdKBo

— Laura Bailey-Wickins (@laura_b_wickins) December 7, 2020
Here's an overview of the campaign details and the selections made in the Twitter Ads fields on Campaign Manager.
Placement: All of Twitter
Promoted Type: Promoted Tweets
Charge By: Impression
Targeting Demographics:

Any gender
Over 25 years of age
New York City Metro
Jersey City
Android, Desktop, iOS
English
Keywords: consultant, content marketing, digital marketing, marketing agency, small business, social media marketing

Type: Reach
Duration: 5 Days (12/14/20 – 12/18/20)
Overall spend: $25
Daily spend: $5
The ad campaign was setup as a local ad (for me local is near Jersey City), targeting adults age 25+, across devices and with particular keywords in their profiles. The intention here was to ensure that the content I delivered matched the interests of my audience.
And as you can see, I didn't spend a lot. It was a $25 campaign with a max daily spend of $5 across five business days. Attention was still being paid to social during this week before folks checked out for the holiday.
For tracking, I set up a destination goal in Google Analytics to count the number of visits to the 'Thank You' page (after someone downloaded the Social Media Marketer Checklist). The form itself and landing pages were generated in Hubspot, wherein I could track form fills and new converted contacts. Twitter Ads was of course what I used to gather the number of impressions and engagements.
Below is an overview of the tools used.
The Tech Stack
# Impressions & Engagement Metrics: Twitter Ad Manager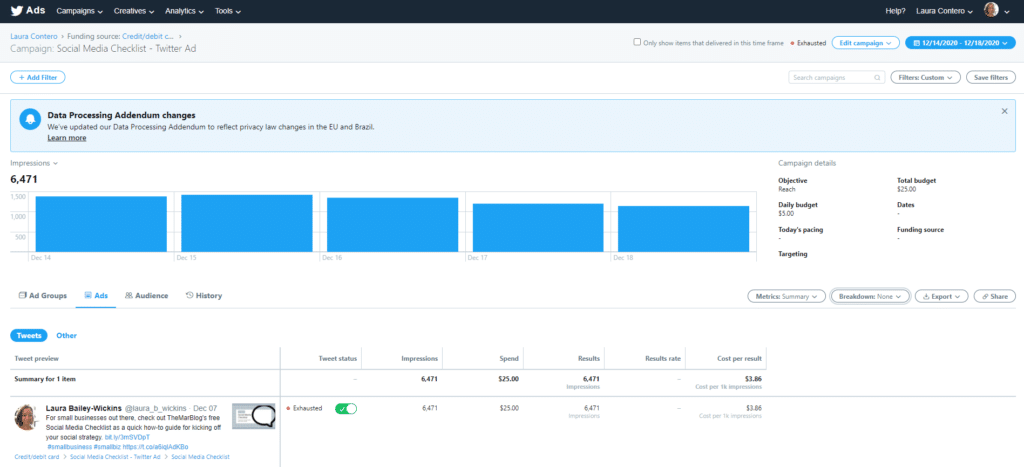 # Site Traffic & Downloads (Thank You Page): Google Analytics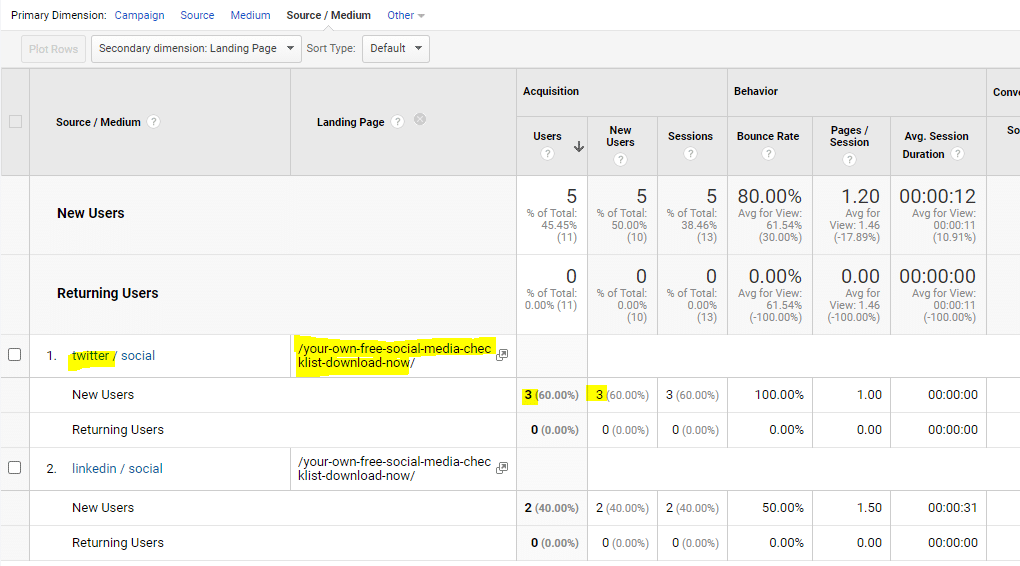 Landing Page and Form Creation: Hubspot Marketing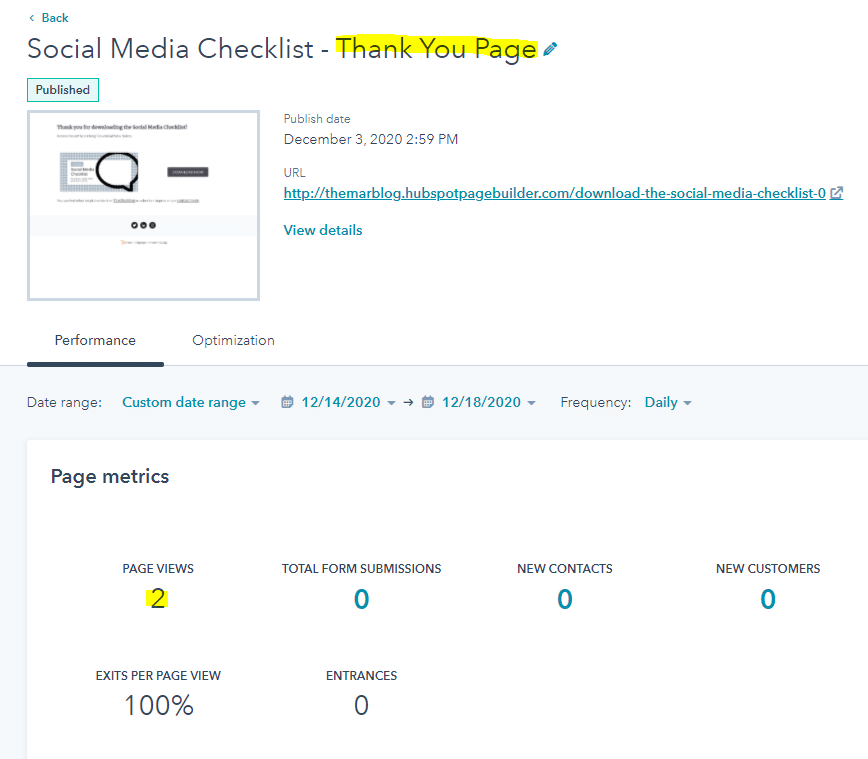 Campaign Results & Outcome
So how did it go?
Keep in mind, my goal for this campaign was to generate as many impressions as possible. On average, I yield 1k+ impressions on Twitter per month across all my posts. So this campaign surrounds just just one promoted post.
The Results
# Impressions: 6,472
# Clicks: 3
# CTR: 0.05%
# Downloads: 2
# Conversion (Site clicks > Downloads): 67%
# Newsletter sign-ups: 1 new marketing qualified lead
Site traffic: 11 new users
Followers: 2 new followers (during the ad duration)
CPM: $3.82
Again, had I expected to walk away with a client from this campaign, I would have been very disappointed. What I did gather from this exercise was a qualified marketing lead via the newsletter, new followers, and a slight bump in site traffic. Considering my own goals, I label this campaign a moderate success.
It wasn't perfect, of course. So below I'll walk you through some key learnings of mind that will prevent you from making the same mistakes.
Learnings for Twitter Ads
Google Goals
Turns out my Google Analytics destination goal wasn't tracking the number of views to the 'Thank You' page because of a user error. Unbeknownst to me at the time, Hubspot creates a unique ID for each form submission which means the 'exact' URL match selection I originally chose when crafting my goal excluded anyone who didn't match the exact URL.
Since then, I learned to favor the option that 'begins with' under the destination goal and include the beginning portion of the URL to be leveraged. This way, the number of page visits will be reflected regardless of the tag Hubspot generates for each form fill.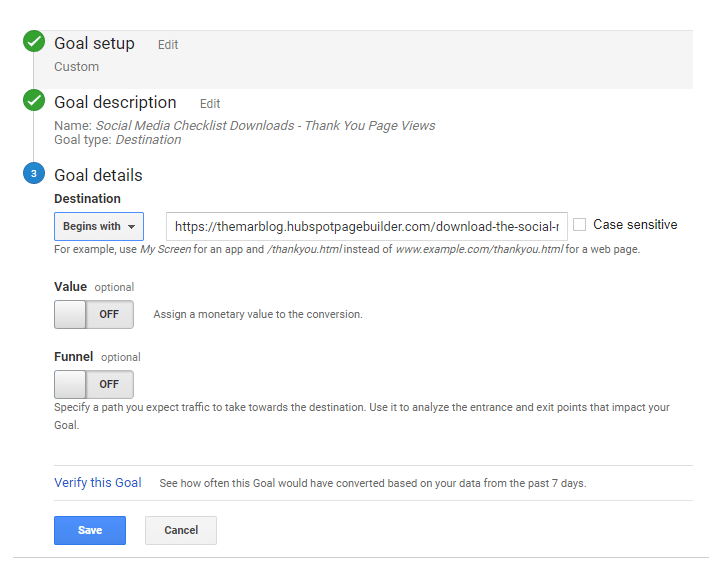 I Didn't Test!
Another missed opportunity of mine. In spite of my advice above, I ran one ongoing campaign as a way to test Twitter Ads. But in retrospect, it would have been better had I ran a duplicate version of the ad and altered an aspect of its set up, like timing, keywords or visual type.
Hashtags
It turns out you don't need to include hashtags in your promoted tweets or copy. This is both redundant and looks a little tacky. The targeting feature of your ad setup will take care of this and by removing the hashtags from your ad copy, you will save on character space.
So that's it! If you have comments or suggestions based on how you've managed Twitter Ads or saw success, be sure to tag me.
Happy Tweeting 🙂
Featured Photo by Nathan Dumlao on Unsplash