5 Small Business Profiles to Follow on Instagram Now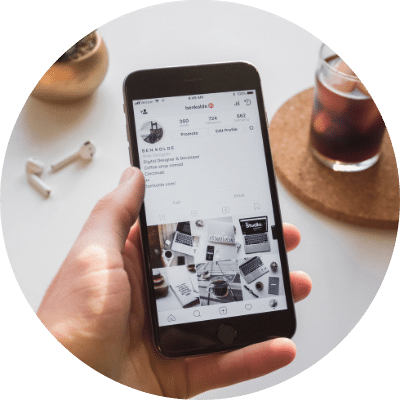 Are you looking for easily digestible growth hacking tips for your small business? Avoid long, drawn-out blog posts and follow these Instagram profiles for notifications on new posts, tips, and observations from the industry experts.
Each of these individuals has their own backstory and anecdotes from their own road to success. With nothing but free advice and inspiration to give, learn everything you can from these professionals who understand what it's like to start from scratch.
Side note: these profiles are not listed in any particular order. Happy reading! 🙂
Neil Patel (@neilpatel)
Number of Followers: 250,000
If you're a marketing professional or small business owner and you don't know who Neil Patel is–shame on you (just kidding).
Neil Patel is a well-known marketing guru best known for his thought-leadership content. Neil received recognition among leaders like former President Barack Obama and was featured as a guest among numerous podcasts and blogs.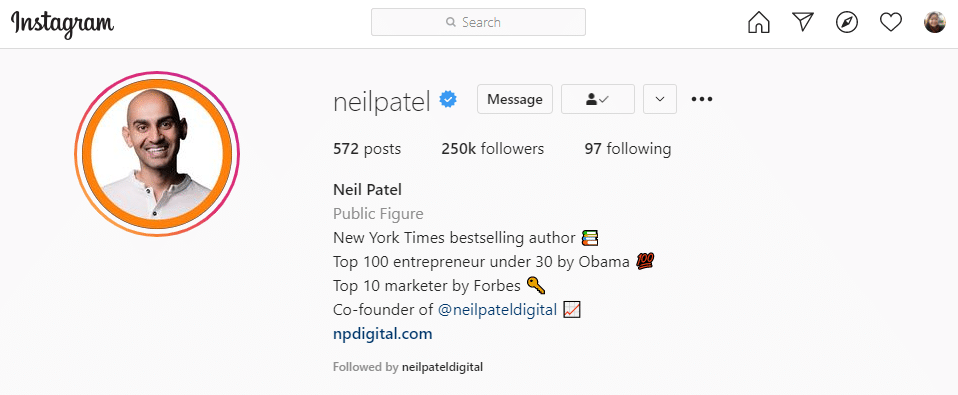 His digital marketing agency, Neil Patel Digital has its own Instagram account which is worth a follow, but I recommend following Neil's personal Instagram profile as he regularly posts his thought-leadership content.
Chock full of updates from his blog, personal quotes from other social media profiles, and best practices for social media marketing, Neil's Instagram profile is great if you're looking for quick bites of educational content.
Everette (@everette)
Number of Followers: 411,000
Founder of Artsy.net, a digital marketplace for artists and patrons to sell and purchase fine art online, Everette Taylor maintains his Instagram account with program updates, new partnerships, and helpful content for the small entrepreneur.

His posts surround topics like personal brand-building and Startup growth for those of us interested in the nitty-gritty of applicable tips to get started.
Everette's profile is strong in the sense that he posts a variety of content, including videos, visuals, and links out to partners or affiliates.
Check out Everett's post about his partnership with Bumble Bizz, a social networking app:
Gary Vaynerchuk (@garyvee)
Number of Followers: 8,900,000
CEO of Vayner Media, Gary Vaynerchuk is an industry expert in personal brand-building. His Instagram profile is complete with a seemingly endless scroll of video and visual images that center around investment advice and meme-ish content.

Gary is not shy when he delivers his personal opinions online, and his passion comes across when he uses the occasional profane word, but for those looking for the compelling story of someone "making it", Gary's profile delivers.
In his profile, Gary offers personal anecdotes of how he rebranded himself at the age of 34 and his own personal marketing insights given his years of agency experience.
Check out his '7 Most Important Business Skills in 2021' post:
Erik Bergman (@smilingerik)
Number of Followers: 434,000
Swedish-born Erik Bergman is an entrepreneur and co-founder of Catena Media, a lead generation company for the iGaming and financial services industries. Erik's Instagram profile showcases refreshingly positive messaging around self-compassion and gratitude.

Erik's profile may not be the most informative if you're looking for marketing content, but it's insightful if you're looking for inspiration as a leader or owner with a goal or purpose. Erik is an example of the type of leader who maintains a positive message and motivational vibes.
In alignment with his overall brand, Erik offers advice for energizing yourself, connecting with other professionals on a more personal level, and of course photos of his adorable family.
Samantha (@_socialsam_)
Number of Followers: 134,000
Founder of Social Sidekick, a social media Instagram template subscription service, Samantha professionally goes by "Social Sam." Samantha's Instagram profile offers helpful social media best practices, checklists, and insights for improving your followership.

As a former social media marketing manager and Instagram guru, Samantha's Instagram profile talks the talk and walks the walk. Each post offers something unique with regard to content, drawing from her clear professional experience managing social media accounts of global brands.
I recommend following Samantha on Instagram even if just to take notes from how and when she posts to Instagram as a go-to expert.
3 Key Takeaways to Grow Your Instagram Account
These social media influencers showcase prime examples of best practices to improve followership, find relevant hashtags, and publish consistent content on a regular basis. While these accounts vary in their content, they all share three commonalities that helped them grow their following.
If you're like most businesses asking themselves, "how do I start marketing on Instagram?" Follow these best practices from profiles like the ones above.
Post Consistently Throughout the Week
According to SproutSocial, the best times to post on Instagram are on Tuesdays between 11am – 2pm OR Monday – Fridays at 11 am. Unlike other platforms, you do not want to re-post the same content multiple times a week or day. Each post should be unique and offer visually appealing imagery with high-resolution images. Instagram is visual-heavy, which means low-quality images will not perform well. Similarly, most brands posts on average 1.5 times a day.
For those with limited time, that does not mean more frequency in posts will result in declined engagement. In fact, the number of times your brand posts to your feed has a negligible impact on engagement, as posts are likely to end up on followers' radars later in the week depending on their frequency of use.
Use a Light and Friendly Tone
As you probably saw in the profiles above, each publisher is not shy in using emojis, exclamation points or fun language in their copy. Given Instagram's visually-driven format, you'll do well to keep your content light and airy, with high res photos or images leading your content.
For those that work predominately on their laptops or desktops, you can download a Chrome extension called Emoji Keyboard. This tool makes it easy to copy and paste emojis into your text on a scheduling tool like Later App, Hootsuite, or SproutSocial.

Use Hashtags and Mentions
For Instagram, hashtags are THE WAY your post will find new people. Similarly, if your business has a location, you can leverage geotags to identify your location to folks in the area.
Intagram allows up to 2200 characters in a post to your feed. Unlike Twitter, which recommends 1-2 hashtags per post, you should include as many relevant hashtags in your Instagram post as possible. This will increase your reach to other folks on the platform.
Similarly, if you're posting content that is related or comes directly from another brand or business, mention them! First, find out their Instagram handle and include it within your post. This will improve the changes they re-post and showcase your content on their feed.
Featured photo by Ben Kolde on Unsplash
Check out 5 Spotify Marketing Podcasts that Inspire and Motivate or How to Conduct Really Easy #Hashtag Research for related articles.